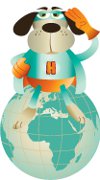 Virtual Assistant Services
Need a online based service? Are you in a situation where you find yourself wishing YOU Could Afford To Employ Your Own Professional Personal Virtual Assistant, but you find yourself coming up a bit short?
We all know (or at least you should know!) that if you spend more than 30-minutes a day answering emails and providing support to your customers, then you're working way too hard…Really!
So we have Just One Question To Ask You…
Do you really feel inspired and creative enough to come up with cash-spewing monster ideas after spending 2 hours sifting through repetitive email enquiries and dealing with disgruntled clients?
The answer is NO!…(and we didn't even have to use any of our super-powers to tap into your mind). Why? Because you wouldn't find even one rich and successful business person that feels any different.
The answer to that dilemma is, of course, to OUTSOURCE most (or all) of those energy sapping tasks to responsible and professional assistants.
Probably the biggest hurdle everyone faces when deciding to hire someone to manage the mundane day-to-day aspects of their business (besides paying their new assistant a salary) is something that no over-hyped promises can deliver, and trusting your highly valued customer care to a complete stranger is a daunting task that no one can (or should) take lightly.  But it is a necessity if you want to stop wallowing in business mediocrity and begin taking Olympic strides within your field of business.
This is where HeroDesk saves the day!!
For further information on how we can assist you please contact us.